Cartoon Network: Christmas Rocks

Release Date

2010

Episode Count

8 in total. 1 Robotboy episode and 7 others

Language Options

English and German

Subtitles

English and German

Aspect Ratio

4:3

Region Code

2

Source

720x576

Publisher

Warner Bros. Entertainment, Cartoon Network Europe and Alphanim

Format

DVD

Run Time

76 Mins. Approx
Cartoon Network: Christmas Rocks is a DVD containing Christmas special episodes of three Cartoon Network Television shows and CN's and Alphanim's Robotboy.
Robotboy appears on the front of the box, flying in the right upper corner. On the backside only his head appears with a green background while he smiles.
The box is red in color.
Series and Christmas episodes
I Used to be Funny
My fair Dork
Twas the Night
Trivia
The intro of Robotboy isn't included. So when you start Christmas Evil the episode will start directly. The outro is not missing. But this outro will also give credit to the episode The Boy Who Cried Kamikazi.
This is the only DVD with Robotboy in his original language, English. No other DVDs with Robotboy episodes in English appeared to this day.
Because the other three series are from Cartoon Network they are credited as Cartoon Network Trademark on the box cover. Robotboy is credited with Alphanim. On the DVD Robotboy is also credited separated from the other series with: ROBOTBOY(tm) Alphanim 2005-2010, France 3.
On the backside of the DVD box there is a warning that the DVD contains mild action violence, threat, crude humor and language. All these four warnings are applicable to the Robotboy episode. The last one in particular when Dr. Kamikazi calls Constantine a Jackass what sparked some controversy when the episode first aired in 2005.
Gallery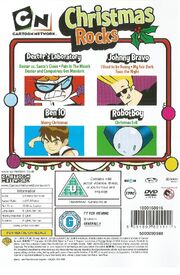 Ad blocker interference detected!
Wikia is a free-to-use site that makes money from advertising. We have a modified experience for viewers using ad blockers

Wikia is not accessible if you've made further modifications. Remove the custom ad blocker rule(s) and the page will load as expected.