Jebediah Bachman-Turner is Gus's old and strict and morally upright father and a minor character in the animated TV show Robotboy. Unlike Gus, he and his wife, Hester, are Amish, and forbid things such as technology, which probably resulted in Gus's obsession to video games and other stuff. When Gus is around them, he acts well behaved and respectful, unlike his true, mischevios self.
Trivia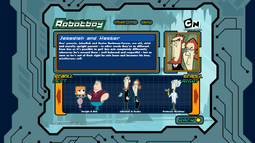 Ad blocker interference detected!
Wikia is a free-to-use site that makes money from advertising. We have a modified experience for viewers using ad blockers

Wikia is not accessible if you've made further modifications. Remove the custom ad blocker rule(s) and the page will load as expected.