"Knockoffs" is the 89th of the series and the 6th(a) of Season 4 of Robotboy. In this episode, when the boys goes to the "Electronics Hut" electrical store inside where suddenly one of the employers wonders why Tommy buys such advanced products until Gus spoils about Robotboy and the employer starts to find out about him and starts to create his own.
Plot
When Tommy & Gus go to the "Electronics Hut" store to buy parts for Robotboy and fix Gus' broken Game Buddy, Gilbert, the store clerk, wonders why Tommy buys such advanced parts. Gus didn't know what to answer him, until he spoiled Tommy has a Super Secret Fighting Robot. Gilbert became inspired by Robotboy, and places a tracker in Gus' Game Buddy when repairing it to locate Tommy's House and copy Robotboy. The next day, Tommy and Gus return to Electronics Hut, only to find out many colorful clones of Robotboy. They were selling so well, that even Gus bought a pink one. Even the main villains in the show bought clones of Robotboy. After that, the clones have gone berserk and had a low battery. Tommy, Gus and Robotboy hurried up to Electronics Hut to destroy all the batteries, so the clones would stop to attack, but it was too late, the clones were already in the store. When Robotboy fought the clones, he superactivated, and so the clones. The clones' circuits were burned up and they were destroyed. When Gilbert found about that, he escaped, and the episdoe ended when he promised to make more stable clones and sell them to world.
Quotes
Tommy: I'm 10. Do I look like I'd have a super secret fighting-robot?"
Trivia

In other languages
| Int. Language | Int. Title | Translation |
| --- | --- | --- |
| Dutch | Namaak | Imitators |
| French | Contrefaçons | Counterfeiting |
| German | Abgeschmettert! | Shattered |
| Spanish | Falsificación | falsifications |
Gallery
Watch the episode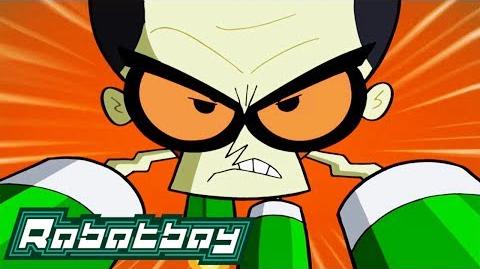 Ad blocker interference detected!
Wikia is a free-to-use site that makes money from advertising. We have a modified experience for viewers using ad blockers

Wikia is not accessible if you've made further modifications. Remove the custom ad blocker rule(s) and the page will load as expected.