Robotboy

Creator

Aired

2005-2008

Premiere and Finale

Running Time

23 Minutes, 11 minutes per episode

Episode count

Genre

Animation, Action, Adventure, Comedy, Family, Science Fiction

Composer

Country of origin

France, United Kingdom

Aspect ratio

1:33:1 (4x3)

Sound

2.0 Stereo
Robotboy is a British/French animated television series produced by French production company Alphanim for France 3 and Cartoon Network Europe, as well as the studios LuxAnimation and Cofinova 1.
The show itself is about a battling and defensive robot called Robotboy, the latest creation of the world renowned scientist Professor Moshimo. Fearing that Robotboy would get stolen by his arch-enemy Dr. Kamikazi and his main henchman Constantine to be used to take over the world, Professor Moshimo entrusts Robotboy to his biggest fan: a 10-year-old boy named Tommy Turnbull. While being protected by Tommy and his two friends Lola and Gus, Robotboy learns how to behave and act as if he were a real boy but also protect his friends and the city of Bay Area from the dangers of the super-villains out there.
The series premiered on November 1, 2005 on Cartoon Network UK, with each new season set to premiere each year afterwards. With only four seasons produced, it included three episodes with holiday themes such as Halloween, Christmas and Valentine's Day, as well as episodes featuring space, sports and the internet, plus a few other subjects.
Production & Inspirations
Jan Van Rijsselberge has stated on an interview that the idea of Robotboy came from one of his children, whom was often bullied in school at the time and wishes he could have a robot as his bodyguard. He also believed that combining both the action-packed scenes with the comedy would make an entertaining show as possible.
Authors
Created and designed by: Jan Van Rijsselberge. 
Literary Bible by: Robert Mittenthal & Michael Rubiner.
Directed by: Charlie Bean, Heath Kenny & Bob Camp. 
Music by: Hans Helewaut.
Producers
Alphanim, France 3, Cartoon Network Europe. 
In association with Luxanimation and Cofinova 1
With the participation of the Centre National de la Cinématographie.  
With the support of Film fund Luxembourg. 
Developed with the support of the MEDIA Programme of the European Union.
ROBOTBOY™Alphanim. © 2005 Alphanim, France3. All rights reserved.
Other Languages
Robotboy has been available in these dubbed languages:
English
Spanish Latin America
Spanish Spain
French
German
Dutch
Italian
Indonesian
Arabic
Azerbaijani
Romanian
Bulgarian
Swedish
Danish
Norwegian
Portuguese Brazil
Portuguese Portugal
Polish
Mandarin
Thai
Hungarian
Hebrew
Turkish
Other Channels
In Popular Culture
In the Nintendo DS game; Sonic Chronicles: The Dark Brotherhood, there is a place with some thin towers with white balls on top attached to blue tubes, resembling Robotboy's head. It hasn't been confirmed if this was intentional or not.
The series and in particular the episode Christmas Evil got a mention with own title chapter in the book ''How the Movies Saved Christmas: 228 Rescues from Clausnappers, Sleigh Crashes, Lost Presents and Holiday Disasters''. This book was released in 2017 and written by William D. Crump. Click Here to read it.
Trivia
There were brief but unspecified rumors that Robotboy might have had a 5th Season, but it was never confirmed or produced as production ended with Season 4.
In some episodes where Tommy and his friends are playing video games, music and sound effects from Super Mario Land 2: Six Golden Coins can be heard.
This series was originally a 52x13 production, but it was later changed to 104x13, as seasons 3 and 4 were produced.
Contrary to belief, the show never had an American dub version of it.
According to Jan Van Rijsselberge, there was never an unaired pilot for the show, they went straight into production on it.
The designer of the logo is Rian Hughes, known for his work as a British graphic designer, illustrator and comics artist.
Series 1 (Season 1 and 2) got in the U.S. a 6.4 rating amongst boys from ages 6-11 and a 4.5 amongst kids from 4-11. Both for the saterday morning block rating. This was concluded after a online poll from Cartoon Network US in assignment of Alphaim.
Series 1 was the number 1 primetime show in 2005 on Cartoon Network UK.
Robotboy was the number 1 rating programme among kids 4 to 14 on Cartoon Network France.
Robotboy got a 8.5 rating and a 43.6% market share on France 3 .
Robotboy was nominated for the cartoon awards Cartoons on the Bay in Italy in 2006 but lost to Camp Lazlo, another Cartoon Network show. The show was also nominated in 2006 for the category best cartoon in 2006 in Tunisia and in 2006 in Annecy, France. Robotboy also lost in these two countries, but recieved a honorable mention in France.
Gallery
Promo's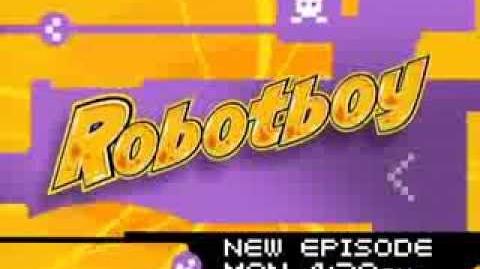 Ad blocker interference detected!
Wikia is a free-to-use site that makes money from advertising. We have a modified experience for viewers using ad blockers

Wikia is not accessible if you've made further modifications. Remove the custom ad blocker rule(s) and the page will load as expected.