"Traffic Slam" is the 75th episode of the series and the 12th(a) of Season 3 of Robotboy. In this episode, while being stuck in traffic the villains of Kamikazi and Affenkugel tries to come around to get Robotboy.
Plot
Quotes
Trivia
The name is a portmanteau of "Traffic Jam" and "Slam".
In the last scenes where Constantine and Ludwig are fighting in Kamikazi's truck, the screen swipes away back to Tommy in Dwight's car and swipes later back to the truck. Normally swipes aren't used to go from one location to the other.
In the very last shot Gus is saying: Tommy, give me your backpack, which indicates that he is sick again. It's weird that he asks that, because he knows that Affenkugel earlier stole the backpack.
Violent scene: When Debbie, Tommy and Lola are fighting over a box of cookies, Deb angrily punches Tommy away with her elbow in his face, and kicks Lola away by kicking her in the face.
Goof: When Gus comes back in the car after he was taken away by Constantine, we quickly see that Lola's dress was drawn too short and that her legs looks like trousers. This gives the idea that she is ''Going Commando'' (That she doesn't wear any underwear under her dress). This caused some commotion.
Goof: It's weird that Gus knew about Affenkugel stole Tommy's backpack, because when that happend, he was already taken away by Constantine.
Goof: When Dwight turns on the radio, Kamikazi opens the back of his truck to use his weapon. In the next shot, the back of his truck is closed and he uses a see-through hatch instead.
Goof: When Robotboy is hit by the electrical force from Kamikazi's weapon, Tommy tries to activate him again by pressing the activation watch. But he is seen to press on the belt of the watch and not on the watch itself.
In other languages
| Int. Language | Int. Title | Translation |
| --- | --- | --- |
| Dutch | Foute File | A bad traffic jam |
| French | Bouchons & indigestions | Corks & indigestions |
| German | Im Stau | Stuck in a traffic jam |
| Romanian | Aglomeratie In Trafic  | Trafic Jam |
| Spanish | Tráfico de golpe | Traffic Strike |
Gallery
Gallery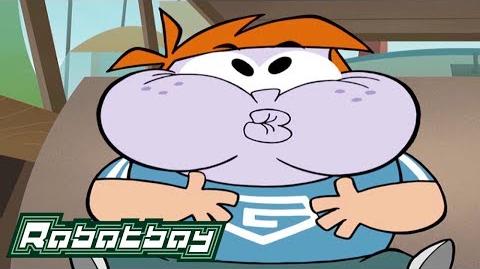 Ad blocker interference detected!
Wikia is a free-to-use site that makes money from advertising. We have a modified experience for viewers using ad blockers

Wikia is not accessible if you've made further modifications. Remove the custom ad blocker rule(s) and the page will load as expected.