​UPDATE: ​​On the 9th of january 2017 when i was looking for information about the show i came across a old blog from 2005 where the writer wrote about the issue of The Beano from 15th october 2005 with a big advertisement from Cartoon Network for Robotboy. So accidently i found information about the comic where i was looking for. I found the comic on EBay and bought it.
​By today there is a page of this comic in this Wikia: http://robotboy.wikia.com/wiki/Kami-Safari When i was online to search for Robotboy information and pictures to collect, i came across the website of the designer of the Robotboy Action Figure.
This guy who oversaw the development and creation of launch marketing materials, premiums and a brand style guide for the series (this one can be found on the Robotboy (series) page). He was responsible for the designs and promoting the series for Cartoon Network UK back when the series started in 2005.
But he also showed one page of a comicbook with a drawn Robotboy story. It reveals Robotboy, Tommy and Gus on a funfair, and Kamikazi and Constantine attacking Robotboy with some robots. This comic book (and the action figure and poster) were give aways and prices people could win in games on Cartoon Network and at the time the game 'island of doom' came out.
I had an email conversation with the man and he was first happy to know that there are still Robotboy fans outthere. But sad enough, he doesn't have any of the items left. He has one action figure and one poster for himself and the rest is given away. But he doesn't have a copy of the comic left. Not in his personal possesion or online a copy. He gave my some information were i could ask for the the items. The company that aires and ownes Cartoon Network, Turner Broadcastiny Company. I am now waiting on a answer from them in they hope they have still a copy of the comic.
The poster and action figure are well known, but i never heard of this comic (a offical one, not a fanfic) or seen it. No other pictures are found online about it. It is my personal mission now the collect it, to read it and save it for everyone. I mean if they sold and gave a lot of those away, it still have to be somewhere existing or in possesion of someone.
Does anyone here ever read this comic or know a copy of it? I really want to know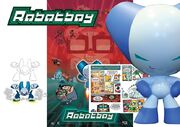 Illustration / Chris Garbutt / Dave Needham / Ed Murietta