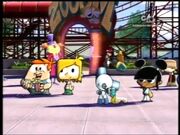 I recently got the urge to find at least a better and higher quality of this mysterious rejected character from Robotboy. If you don't know what talking about I'll write a few info's and you can take look at this picture I took from an old promo (I know the quality stinks but it's the best I could ever find.)
I know I've seen this character before, even before that promo. I saw this female character appearing on a special paper sheet that actually could be found on CN France web through the Robotboy Page. I wish I still had it but alas I don't. About this paper sheet, you could also see the other main characters of Robotboy including the rejected character.
Of course almost no details are shown for who this character was supposed to be, Okay I might be wrong but she gets me the idea as if she would be related to Lola and her Father.
She does kind of look like a teenager who from my point of view seems to love shopping. I don't recall that she had an official name either.
Anyway I'm still curious because this could be a nice discovery for the Wikia. I hope we can find a better pic of her and create a page for her, what do you think?